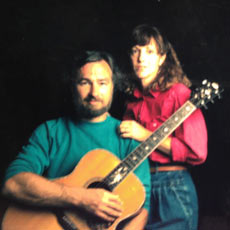 Pearl Works was founded out of a desire to combine our shared loves of music & inlay artistry.
Jean remembers Larry telling her he wanted to build a shop in the basement. Little did she know this would involve an expanded foundation, a removable outer wall, the installation of a T1 line, an advanced computer network, tons of new machinery, materials, and equipment.
"Larry Sifel was a visionary in the music industry. I remember very clearly the day he came to our factory, took me to lunch, and carefully explained that he was going to take inlay into the 21st century. There was a lot of detail to his plan, but at its core was the intention for inlay to be cut by a CNC machine instead of by hand. I said, "OK, I'm in," and we started business with him. It played out almost exactly as he envisioned, and there's not a month that goes by that we don't take for granted something he did."

— Paul Reed Smith, PRS Guitars
Larry was prone to thinking big. Above this new shop he would soon add a sundeck designed in the shape of an acoustic guitar. Only his contractor could convince Larry to do without the headstock fearing it might extend onto the lush Amish farmland surrounding the property.
To this day Larry's shop looks amazingly as it always did complete with the CNC machines, sander, drafting table, computers, and tools among the other items Larry and his early compatriots employed in the course of furthering their expertise.
The Pearl Works professionals carrying on this tradition of inlay excellence today, find inspiration in the return visits they continue to make to the "South Shop". Many of the photos found throughout this web site were taken in a makeshift studio set up here for these purposes.